5TONIC, THE OPEN RESEARCH AND INNOVATION LABORATORY ON 5G, CELEBRATES ITS 5TH ANNIVERSARY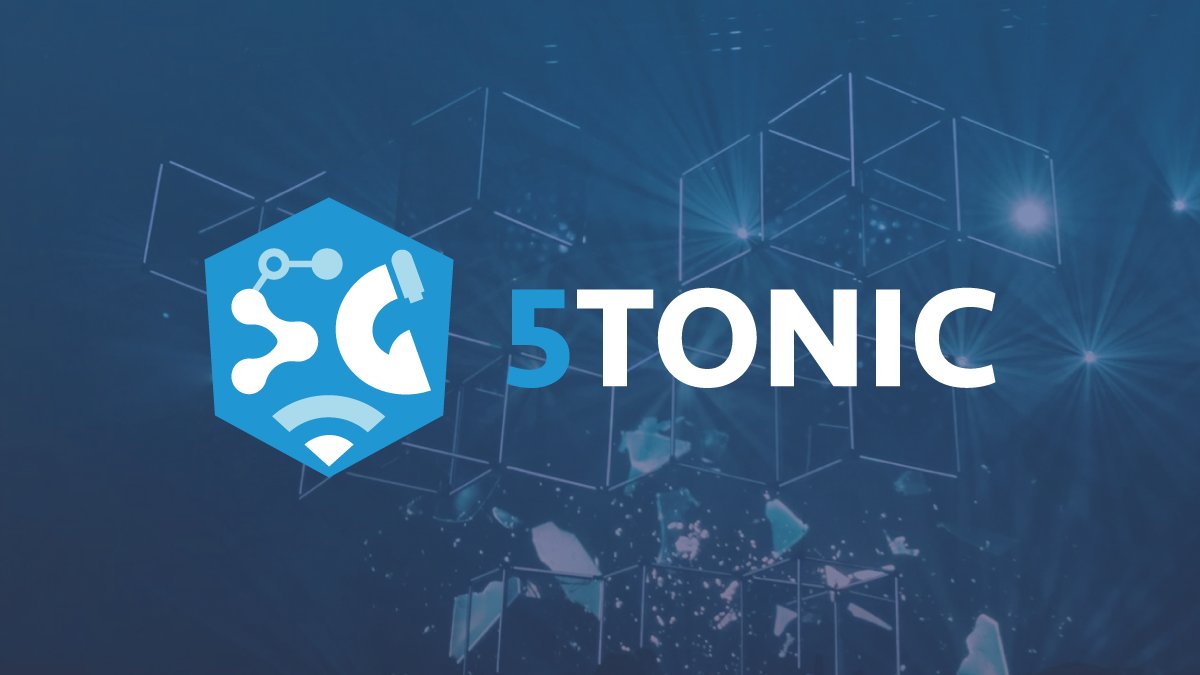 Throughout these 5 years, the laboratory has participated in more than 25 projects and collaborated with more than 50 companies, making it one of the most advanced 5G laboratories in Europe
5TONIC participates in the three major projects funded by the EU to create pan-European 5G test infrastructures under the ICT-17 Call 5G End to End Facility: 5G EVE, 5G VINNI and 5Genesis; as well as in many other European projects
In addition to its two founders, Telefónica and IMDEA Networks, the current members of 5TONIC are Ericsson, Intel, CommScope, Carlos III University of Madrid, InterDigital and Altran
Madrid, October 15, 2020.- 5TONIC, the open research and innovation laboratory on 5G technologies founded by Telefónica and IMDEA Networks, celebrates its fifth anniversary this month positioned as one of the most advanced 5G laboratories in Europe. The laboratory was recognized as a centre for excellence in 5G technology and was awarded the status of a Digital Innovation Hub by the European Commission in 2018. Since its launch in 2015 it  has been working on two fundamental lines of activities:
Firstly, and with the highest priority, converting the theoretical capabilities of the fifth generation mobile networks into enablers of real-world use cases and applications for the different vertical industries, developing solutions for health, industry 4.0, gaming, surveillance, transportation, automotive, and tourism sectors, as well as for the efficient management of cities (smart cities), among others.
Secondly, to carry out tests of the new technologies that are being incorporated into the 5G ecosystem and that facilitate many of these use cases, such as network function virtualization and orchestration systems (NFV), the softwarization of networks (SDN) or the processing capacity on the edge computing (MEC).
For this, the laboratory has deployed 4G and 5G mobile networks, based on Ericsson technology and with all the necessary elements, both in radio access and in the core network, to support end-to-end connectivity. This network infrastructure compliant with 3GPP Rel-15 NSA will be completed this year with the incorporation of the 5G core network (5GC) with support for the SA (Stand Alone) operation mode, as well as with radio access in millimetre frequency bands, which will allow supporting new use cases with more demanding performance requirements.
In the health field, a sector especially relevant as a consequence of the coronavirus pandemic, 5TONIC has developed an innovative 5G-based emergency services assistance system, within the framework of the European innovation project 5G-
Transformer and together with SAMUR-PC and the Carlos III University of Madrid (UC3M). This system enables  a totally personalized emergency diagnosis and treatment, which could even access the patient's medical history at the same time they are treated.
5TONIC also collaborates with other national and international research and innovation projects, and has been the only laboratory chosen by the three major pan-European projects funded by the European Union in the Call ICT-17 5G End to End Facility:, in charge of developing 5G technology testing infrastructures for European companies and verticals: 5G EVE, 5G VINNI and 5Genesis. Multiple projects from other Calls (e.g., ICT-19 Advanced 5G validation trials across multiple vertical industries) are, as a result, extensively using these 5TONIC infrastructures.
This is the case, for example, of 5Growth, whose objective is to empower vertical industries with an AI-driven automated and sharable 5G End-to-End solution that will allow these industries to achieve simultaneously their respective key performance targets. 5TONIC also supports the activities of other European projects, as well as collaborative projects with Taiwan, Brazil and the United States.
In these five years, some of the most innovative companies and technological organizations operating in Spain have joined 5TONIC for its collaborative work formula, where companies cooperate with each other to achieve their particular objectives jointly. In addition to the founding organizations, 5TONIC counts among its full members with: Ericsson (since 2015), Intel, COMMSCOPE, UC3M and InterDigital (since 2016) and Altran (since 2018).
Another quite relevant figure, within the 5TONIC ecosystem, is the collaborator role, that is, companies that join the laboratory to develop specific projects that may leverage early access to the technology provided by the laboratory facilities for innovating on their business solutions. These currently include Nokia, ASTI, Rohde & Schwarz, Luz WaveLabs, Saguna Networks, Celling5G, UTEK, INNOVALIA and TELCARIA.
5TONIC also extends its ecosystem activities by supporting the training of professionals in new 5G technologies, not only with the dissemination of the results of their activities, but also with the participation in Ericsson's sponsored  Carlos III University Master on "NFV and SDN in 5G Networks ", launched in 2016 and the first Master program in the world to be taught on these subjects. It also helps the development of new companies that seek to leverage 5G to develop innovative solutions in multiple areas.
Among the main milestones of the laboratory over these five years, the following could be highlighted:
In 2016 5TONIC organized jointly with Spain Ministry of Industry the first national event on 5G for vertical sectors, and started to engage with key collaborators in Industry 4.0 and Tourism sectors.
In 2017 the laboratory hosted the first NFV "plugfest", in collaboration with ETSI and Telefónica, in which numerous companies participated such as ADVA Optical Networking, Anritsu A / S, Canonical USA Inc., Cisco Systems, Ericsson, Hewlett-Packard Enterprise, Huawei, Lenovo, Red Hat, Spirent and Wind River, among others.
In 2018, 5TONIC was recognized as a Digital Innovation Hub by the European Commission.
Since 2018, 5TONIC is involved in all 5GPPP Phase III platform projects (5G EVE, 5G VINNII and 5GENESIS).
Together with SAMUR-PC, it has developed and tested a 5G based emergency service, that reduces dramatically the time for attending to victims of cardiovascular accidents.
At FITUR 2020 it showcased a virtual tourism application enabling users to attend and experience an exhibition remotely over 5G as a result of the collaboration with Ericsson, IMDEA Networks, SEGITTUR and YBVR.
5TONIC deployed member company CommScope's OneCell technology within the laboratory to mimic 5G networks.
The laboratory has developed, together with collaborator ASTI and members Ericsson, Intel, Telefónica and IMDEA Networks, a trial of 5G-controlled Autonomously Guided Vehicles (AGV) that also support real-time video recognition.
5TONIC Supported the world's first remotely controlled unmanned vessel using the commercial mobile network, in the collaboration of Telefónica and Ericsson with UTEK Technologies.
Testing the 5G access suitability for supporting online gaming, both for games played on mobile devices as well as games with high performance requirements, carried out by Telefónica and Ericsson in cooperation with several gaming platform providers.
5TONIC has created, together with the Carlos III University of Madrid, the world's first Master's degree in NFV / SDN for 5G networks, sponsored by Ericsson
Deployment of the new network core defined for 5G (5GC), which enables the support of «Stand Alone (SA)» access, and which will facilitate support for new use cases, as well as the use of «network slicing" that supports 5G for network capabilities customization to the needs of users.
Automated deployment of an Internet protocol telephony service on unmanned aerial vehicles using network functions virtualization.
"For the industry as a whole, it is key to have spaces for innovation and collaboration such as 5TONIC that enable the testing of all 5G technology components, while acquiring an end-to-end vision and putting real use cases to work.» Said David del Val, President of 5TONIC and CEO of Telefónica I+D. "All these achievements demonstrate the good position of Spain, due to laboratories like 5TONIC, in the global race for 5G. Furthermore, it highlights the need to invest in research and innovation so that the country and its companies continue to advance technologically, becoming not only a European reference, but a global one." Said Arturo Azcorra, vice president of 5TONIC.
5TONIC was initiated by Telefónica and IMDEA Networks Institute with a clear vision to create an open research and innovation ecosystem laboratory in which industry and academia come together to boost technology and business innovative ventures. The laboratory promotes joint project development, joint entrepreneurial ventures, discussion fora, events and conference sites, all in an international environment of the highest impact. 5TONIC serves to show the capabilities and interoperation of pre-commercial 5G equipment, services and applications, by leading global companies in the 5G arena. The laboratory was recently awarded Digital Innovation Hub status by the European Commission.
If you are interested in collaborating with us please fill out the following form, and we will get in contact to provide you further information.