NOKIA BELL LABS, TELEFÓNICA, AND IMDEA NETWORKS AWARDED "BEST 5G PROJECT" BY TM BROADCAST AWARDS FOR THEIR 5G MEC ULTRA VIDEO PROJECT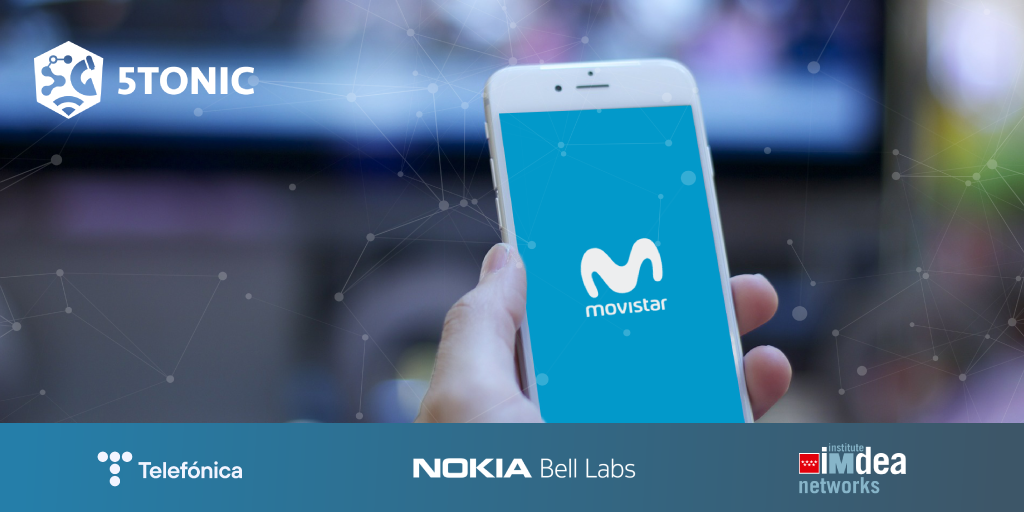 Madrid, April 23th, 2021.- Nokia Bell Labs, Telefónica, and IMDEA Networks have been announced as winners in the category for Best 5G Project at the TM Broadcast Awards for their 5G MEC Ultra Video Server project developed and tested at the 5TONIC, the open research laboratory for innovation of 5G technology. The awards were convened by Daró Media Group SL, editor of Broadcast magazine.
The award-winning project used a Multi-Access Edge Computing (MEC) platform integrated with the 5G network, that was created for the reception of television channels through multicast UDP and their delivery through the 5G network using adaptive streaming. This solution helps to optimise the audiovisual content delivery service of both linear TV and VoD channels, reducing the use of the transport network and taking advantage of the mobile bandwidth of the 5G spectrum. This would allow Movistar Fusión services to be offered from mobile devices over the 5G network in a much more optimised way than what is currently possible.
This innovation was carried out in the context of the European H2020 5G-EVE project, which provides a 5G platform in which verticals can install their use cases and enhance the configuration of said 5G network to achieve the desired quality and performance from the service provider's point of view.
The tests and deployment of this project were completed at the 5TONIC facilities. "This award is very important, both for Telefónica and for 5TONIC collaborator Nokia Bell Labs, as it is a success story of our collaborative work formula, where we all cooperate to achieve our objectives together. We couldn't be more proud", stated Arturo Azcorra, former vice president of the 5TONIC laboratory.
This is a very important milestone for Nokia Bell Labs. «We accept this award with great enthusiasm, as one of our main objectives is to research and develop technologies that will shape the society of the future and this award validates and recognises our efforts and those of the people who accompany us, such as 5TONIC", said Álvaro Villegas, Head of Nokia Bell Labs Spain.
In the words of Jesús Folgueira, Global Head of IP and Transport Networks, CTIO Telefónica, "Telefónica sees 5TONIC as an excellent innovation environment to match the advancement of 5G technology with the use cases that will give rise to services for society as a whole. Testing technology, while understanding the value it can bring to customers, is an excellent way to help us design the services of the future".
The TM Broadcast awards, which are made up of a total of 16 categories, seek to publicise the most innovative broadcast projects carried out by national companies. Its judge panel of experts from the audiovisual sector affirmed that Nokia, IMDEA Networks, and Telefónica "make full use of the true advantages that 5G brings to the broadcast world: high user density, more bandwidth and very low latency. The candidates displayed numerous latent technologies and technical implications worthy of being reviewed."
5TONIC was initiated by Telefónica and IMDEA Networks Institute with a clear vision to create an open research and innovation ecosystem laboratory in which industry and academia come together to boost technology and business innovative ventures. The laboratory promotes joint project development, joint entrepreneurial ventures, discussion fora, events and conference sites, all in an international environment of the highest impact. 5TONIC serves to show the capabilities and interoperation of pre-commercial 5G equipment, services and applications, by leading global companies in the 5G arena. The laboratory was recently awarded Digital Innovation Hub status by the European Commission.
If you are interested in collaborating with us please fill out the following form, and we will get in contact to provide you further information.